Oklahoma City Real Estate Market Report SEPTEMBER 2016 | Josh Barnett | OKC Real Estate Broker
SEPTEMBER 2016 Oklahoma City Metro Real Estate Market – Year / Year & Last 10 Years
1) Total # Closed INCREASED (11.17 %) - GOOD
2) Total $ Volume INCREASED (6.92 %) GOOD
3) Average Price DECREASED (- 3.82 %) – BAD
4) Median Price DECREASED (-2.40 %) - BAD
5) Days on the Market INCREASED (now 57, last year 53) - BAD
6) Inventory INCREASED (21 %) – BAD
How is the Oklahoma City Metro Real Estate Market for SEPTEMBER 2016, the Oklahoma City Metro Real Estate Market is BAD TIMES 4 for SEPTEMBER 2016, compared year over year. We have 2 Good AND 4 BAD readings. This winter will be a Buyer's market, CHECK OUT THE GRAPH BELOW, we are not hitting last years numbers. If you are getting ready to sell PRICE it RIGHT. With inventory rising for the 7th straight month, prices will drop, DON'T be stagnant on the Market!!!!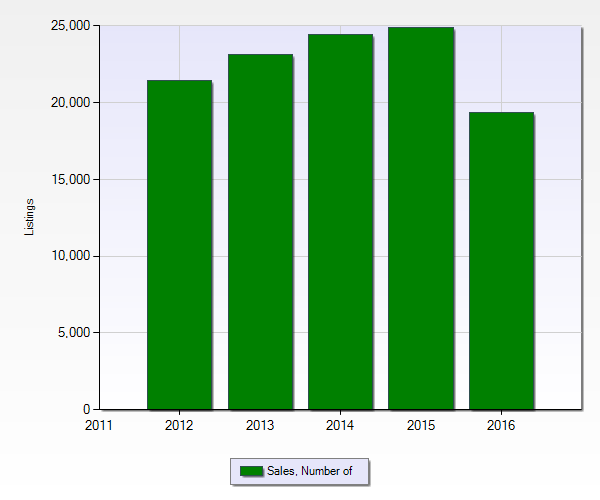 Above Graph is from Jan 2012 to September 2016, results of 113,378 total sales.
For a copy of the Oklahoma City Metro Association of Realtor (OKCMAR) stats, email Josh@OKRECrew.com and place in the subject line September 2016 Oklahoma City Metro Housing Stats.
Please be sure to "LIKE" this video and "SHARE" with your friends and family who are getting ready to Buy or Sell in the Oklahoma City area. "Subscribe" to this channel to stay up-to-date on all things Real Estate in Oklahoma
Oklahoma City Metro Real Estate Residential Housing Market Stats * September 2016 Report * http://www.okrecrew.com/oklahoma-city-real-estate-market-september-2016-josh-barnett-okc-broker
Have a Home, Some Land, or Commercial Building to Sell? Click the link for your FREE Market Valuation http://www.okrecrew.com/free-market-analysis
Follow Us On-Line ("Like" & "Share"):
Oklahoma Real Estate Crew YouTube page http://www.youtube.com/JoshBarnettREIB
Oklahoma Real Estate Crew Facebook: https://www.facebook.com/OKRealEstateCrew/
Oklahoma Real Estate Crew About Us: http://www.okrecrew.com/about-us
Oklahoma Real Estate Crew Memberships:
Oklahoma Real Estate Info:
2014 Best of Trulia
2014 Top Producing Team of Metro First Realty Corporate Wide
2013 Top Producing Agent of Metro First Realty Edmond Branch
Serving Oklahoma City, Edmond, Guthrie, Stillwater, Perkins, Chandler, Yukon, Choctaw & Shawnee
Representing Sellers & Buyers in Home, Farm, Ranch, Land, or Commercial Transactions
*** The information here is deem reliable at the time of publishing, information must be verified by any interested party after date of publication.